hypnotherapy treatments
Hypnosis can help treat many ailments that hold people back from enjoying their lives to the full.
One of the most common issues that people seek hypnotherapy for is weight problems.Whether your problem is due to over eating, too large portions, sweet or savoury tooth, binge eating, comfort eating, snacking, 'clean plate' club or a combination of all of these, hypnotherapy can help you regain control of your eating habits. Weight reduction therapies include the amazing Hypno Gastric Band therapy and other weight related treatments.

All treatment is client centred, and tailored to suit your own individual needs.

Therapies offered include:
Breaking Unwanted Habits
Cancer Support
Comfortable Childbirth
Confidence building & self esteem
Emotional Issues
EMDR (Eye Movement Desensitation and Reprocessing)
Hypno Gastric Band Therapy
Irritable Bowel Syndrome / Digestion
Panic Attacks
Phobias & Compulsions
Post Traumatic Stress
Quit Smoking
Relationship Issues
Sleep Issues
Stress & Anxiety
Weight Management

and many other issues. Just call me for an informal chat.

Hypno Gastric Band Therapy
As well as the above therapies, I am very pleased to be able to offer Hypno Gastric Band therapy for people who want to lose that excess weight for good. You may have tried diets in the past, lost weight, but as soon as you start eating normally again you put it all straight back on again.
Look Great; Feel Great
This therapy is different, it uses NLP and hypnotherapy techniques to help you lose weight easily. Hypno-gastric band therapy can help you eat smaller portions and feel full more quickly. You will be slimmer, fitter and healthier and feel much more in control; more confident because you will look and feel great.

All the benefits but without the surgery
The therapy can help create a state of mind whereby you will believe you have a Gastric Band fitted without having to go through the actual surgery! A surgical gastric band is usually only offered to clinically 'obese' people with a high BMI (Body Mass Index) and can cost between £4,000 and £6,000.

Unlike having surgery, the hypno-gastric band therapy is completely safe and is suitable for anyone who wishes to lose weight for good at a fraction of the cost. It is a long term solution to weight problems.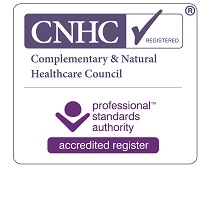 The hypno-gastric band therapy normally consists of 4 sessions of hypnotherapy, however, in some cases additional sessions may be required if emotional or non-physical reasons need to be dealt with.
Please contact me on or 07779 424018 or use the contact me form if you would like to discuss your needs in more detail or book an appointment.
Qualifications:
Sandy Hector BSc(Hons) Psychology, Certificate in Education (Southampton University), Diploma in Hypnotherapy (HSH), Certificate in 3rd Wave CBT Therapies, Certified Master Practitioner of NLP, Certified Master Practitioner of HNLP, Certified Master Practitioner of the Art and Science of Time-Based Techniques, Certified Hypno-Gastric Band Therapist, Certified Parts Therapy Facilitator, Registered Hypnotherapist (GHR), CNHC Registered, FRYOG Yoga Teacher Diploma.